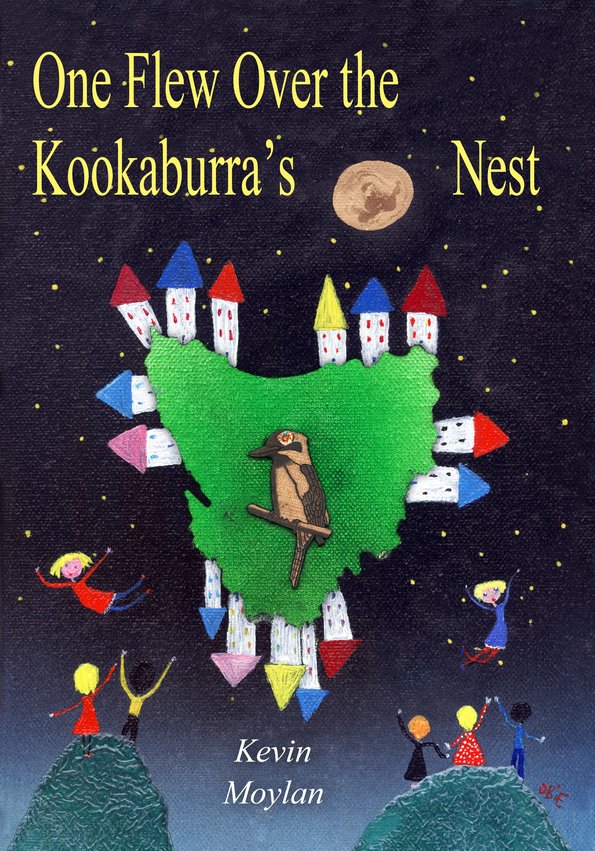 ONE FLEW OVER THE KOOKABURRA'S NEST by KEVIN MOYLAN . Published  by Kookaburra Press 2016.
New, Revised 2ND EDITION now available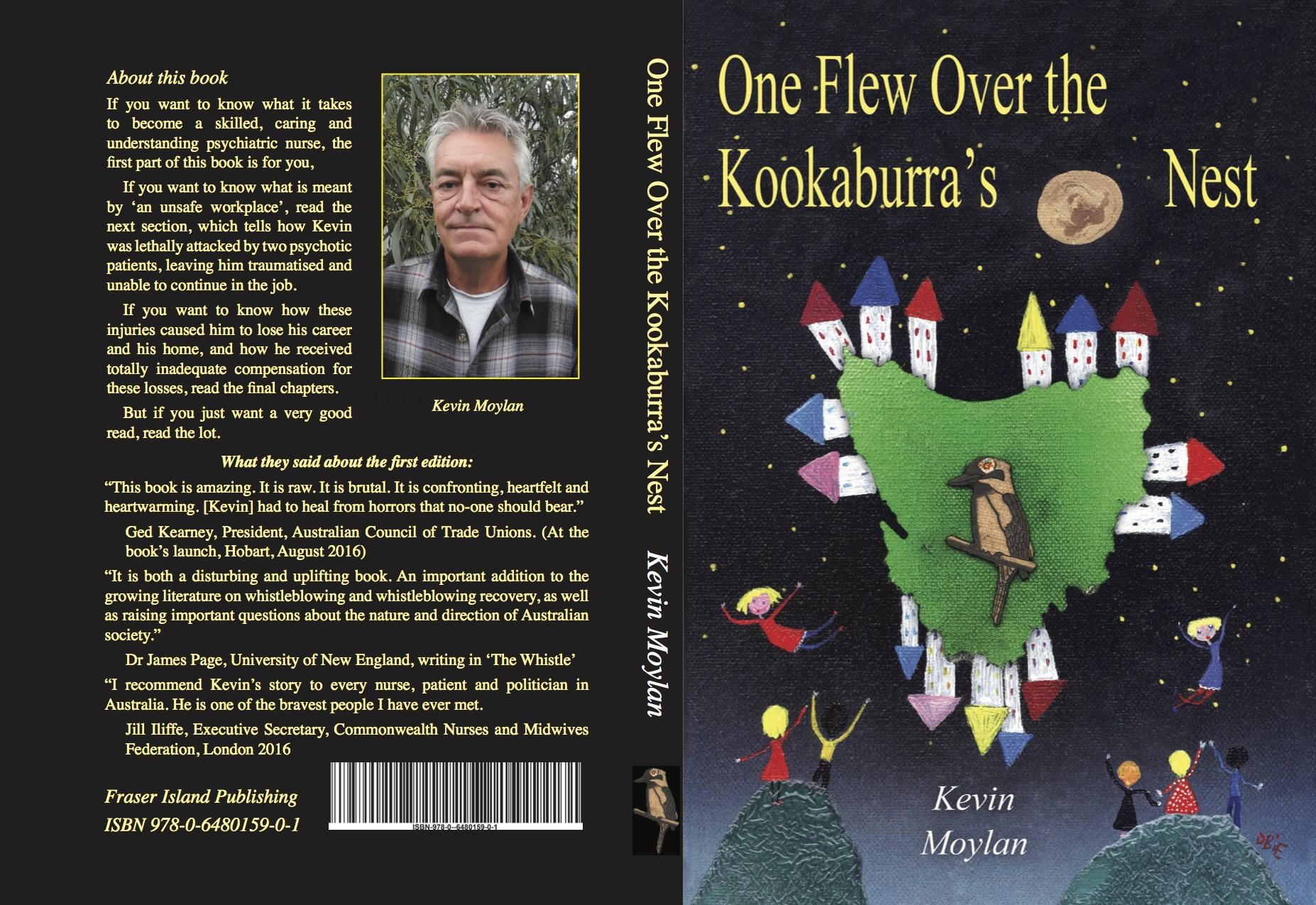 Kevin Moylan, former psychiatric nurse, shares his journey from former junior ward assistant at Ambermere Psychiatric Hospital, Shepparton, Victoria to his experiences in a violent and unsafe workplace in Tasmania in the 1990s. Kevin lost his home, his career and suffered post traumatic stress in his efforts to highlight the patient and staff abuses within the psychiatric health system there. After he notified authorities in writing (blew the whistle) he was physically assaulted, received death threats and an actual attempt on his life. This book is the result of his campaign for proper treatment of the most vulnerable people. $27.50 plus postage with tracking. 
REVIEWS for First Edition of One Flew Over the Kookaburra's Nest.

Word spreads through this Tasmanian website:
 http://tasmaniantimes.com/index.php?/article/tasmanian-whistleblower-tells-all-in-explosive-new-book-/ 


Shepparton News  - Weekend Book Review : STORY THAT HAD TO BE TOLD
The Advocate August 29th, 2016
 http://www.theadvocate.com.au/story/4127177/suffering-two-decades-on/
BOOK REVIEW A whistleblower in the world of psychiatry: the story of Kevin Moylan 
Review by James Page 
Kevin Francis Moylan was born in Shepparton, country Victoria, and worked for many years as a psychiatric nurse in the northwest of Tasmania. He is also a whistleblower, having reported maladministration and criminal conduct to his superiors, to no avail, over an extended period of time. He also suffered assault and ongoing harassment. His concerns were eventually tabled, without his consent, in the Tasmanian Parliament.
Kevin Moylan Kevin has recently published his story in book form, under the title One Flew over the Kookaburra's Nest. The title is an Australian twist on Ken Kesey's 1962 novel and critique of the practice of psychiatry, One Flew over the Cuckoo's Nest, which was subsequently made into an award-winning film of the same title in 1975, directed by Michael Douglas.
The book is divided in two. Part One deals with Kevin's experience as a psychiatric nurse in Tasmania, and Part Two deals with his experience as a whistleblower. 
It is both a disturbing and uplifting book. It is a disturbing book in that it raises so many questions about mental health in our society. How do we create a more compassionate society? How do we create meaning in society? These are complex questions, and such questions inevitably flow from reading about the many tragic cases that Kevin had to deal with as a psychiatric nurse.
My own feeling is that the answer may lie, in part, in not encouraging such a hyper-competitive society, where success is everything, but rather in developing a society where we feel more willing to express our weaknesses, doubts and vulnerabilities. A book like this is a good start in this task, as Kevin is quite open and indeed courageous about expressing his own vulnerabilities and weaknesses. 
It is a disturbing book also because Part Two reveals the well-worn litany of whistleblower vilification that organisations routinely visit upon those who dare speak the truth. The only saving grace is that in the foreword, Jill Illife, formerly of the Australian Nursing Federation, credits Kevin Moylan for being a catalyst for the Federation developing a policy of whistleblower support. If only other unions and institutions would follow suit.
The uplifting aspect of the book is how Kevin dealt with his post-traumatic stress disorder, brought on by his experiences as a psychiatric nurse, by the serious assaults that he suffered, and by the victimization and betrayal he experienced as a whistleblower. Kevin adopts various strategies, including simply going bush.
For instance, after leaving Tasmania in despair, Kevin finds himself homeless. He writes: "The problem is— where can I sleep safely tonight? Answer: back in the bush is where I love life, under a gum tree, far away from … strife. … on the banks of the Murray River is where this burnt-out specimen decides to lay his weary bones. Fred the kelpie is my sole companion and guardian, he loves going camping more than me … My saving grace was a smelly four-man canvas tent, three fishing rods, a gas barbecue, transistor radio and a box of dry matches" (p.183). 
Healing is an important issue for whistleblowers and for whistleblowing research. There's something very Australian about Kevin Moylan's approach to this. Get alone. Let the bush heal you. There are shades of Henry Lawson in his approach. Of course, there is much more to recovery from PTSD than this, although what Kevin writes is nevertheless very evocative. 
This is a self-published book, and my only criticism is that in parts the book could have benefitted from closer editing. This is, however, a minor criticism. I think that the book is important as an addition to the growing literature on whistleblowing and whistleblowing recovery, as well as raising important social questions about the nature and direction of Australian society.
Kevin Moylan 2016. One Flew over the Kookaburra's Nest. Newstead: Kookaburra Books. With index and illustrations. 225 pages. 
Available from Dromana Books, dromanabooks.com 
Dr James Page is an adjunct professor at the University of New England (The WHISTLE -#89 JANUARY 2017) Newsletter of Whistleblowers Australia)
Interview with Kevin Moylan on ABC Radio Hobart Breakfast with Ryk Goddard 2016
https://soundcloud.com/936-abc-hobart/whitsleblower-protections-fail-kevin
Book Review from Tasmanian Times  http://tasmaniantimes.com/index.php?/article/one-flew-over-the-kookaburras-nest/
with comments suggesting not much has changed since Kevin first raised his concerns. June 9th, 2017  
Another Review from Tasmanian Times  - ANATOMY OF A WHISTLEBLOWER - MAGGIE MAGUIRE. November 28th, 2017
http://tasmaniantimes.com/index.php?/weblog/books-article/a-review-of-one-flew-over-the-kookaburras-nest-/show_comments