Cheryl Kernot writes of this book " A very enjoyable read from the one person who saw it all. As National Secretary for nearly 18 years and as my Chief of Staff, Sam was the irreplaceable bridge between the Democrats' members and their parliamentarians. Her insights add colour and significant untold facts to the Democrats' history."
Total cost of this book including postage within Australia with Austpost Tracking is $27.95. Post only, no pickups.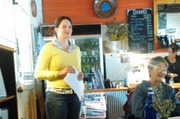 Emily Hudson flew in from London to launch her mother's book "We Kept the Bastards Honest. Or Did We?" Emily's speech was a brilliant analysis of the book which records Sam Hudson's experiences as National Secretary of the Australia Democrats for over 18 years.Kate Hood, actor, voice-over artist read with her usual flair excerpts from Sam's book in an impromptu performance at Dig Cafe Newstead on Saturday October 21st. A most enjoyable occasion.
Book Review published in December 2017 issue of the Democrats Natonal Journal
We Kept The Bastards Honest — Or Did We? By SANDRA KANCK (Senior Vice President of the Democrats)
When Ms Sam Hudson retired as our party's National Secretary after 17 ½ years in the job, a dinner attended by hundreds of members, friends and colleagues was held to honour her contribution. Sam delivered a PowerPoint presentation, the final slide advising "I know where the bodies are buried", a line which she mischievously delivered. The personal anecdotes contained in this book are revealing of Sam's subjects, mostly the Senators with whom she worked either as a party office-holder or as a staff member. When, for instance, she comments about John Coulter's leadership she tells it this way: "He had been told in confidence about a couple of private relationships between parliamentarians and members of the press gallery so that he didn't inadvertently put his foot in it, which he never did. Instead, he jumped right in with both feet." Sam has a deliciously droll way of explaining things at times. On the issue of the members choosing the parliamentary leader she invites us to imagine the Democrats have just won the Federal Election and the US President phones, wanting to speak to the new PM. Our response would be, "ring back in six weeks when we've had the membership ballot". Towards the end of the book Sam makes critical observations about party structures and procedures, one of which was her concern about the membership choosing the party leaders. I am sure she would be pleased we have just addressed this issue with our recent constitutional ballot. As she says, "Members' rights and members' responsibilities are an inseparable pair." Sam rightfully laments the interference of the National Executive when Natasha Stott Despoja resigned as Leader. In not following the normal protocols of appointing the Deputy Leader as Acting Leader, the Executive set in train events which would have a devastating consequence for us. As she observes, Aden Ridgway would have seen this as a vote of no-confidence in him and hence his choice to not contest the leadership ballot. Not only did we lose a man with enormous leadership potential, he was lost to Australian politics as well. I do not always agree with everything Sam says, and I have already let her know I think she has let some off too lightly. I use her words about the internal democracy of the party: "… a belief in democracy is indivisible: it has to include a belief in the validity of a majority decision even if that decision seems to be palpably wrong or absurd. It was absolutely clear that many of our members did not have this ultimate respect for the democratic process. Indeed, some of the most vociferous supporters of 'members' rights' were the quickest to ignore majority decisions if they happened to disagree with them, as if 'membership democracy' meant getting their own way." I set out to read this book wondering if the locations of those aforementioned bodies would be revealed. They were not. Despite my anticipation I was to be disappointed in that regard, but the book is worth a read. For those without a long membership in the party and personal involvement in its history, it records the stories almost as if Sam is sitting by the fire having a friendly conversation with us. Just over 100 pages long, it could be bowled over in a night's reading. The question posed in the title is not answered, but each of us as we read this book will have the opportunity to answer it ourselves. The question I ask now is, have we learnt from these lessons of history? RRP: $24.95 Order online from: dromamabooks.com.au